Publication
In 2007 the first volume of the series "Names of Catalan Philosophy" dedicated to José Ferrater Mora was published under the title La filosofia de Ferrater Mora..
In the introduction: "This volume shows that Ferrater has not had to pay the price that threatens the independent thinker perhaps because his Diccionario de Filosofía has obtained such a large circulation. An examination of the contents of this volume not only reveals things about its authors but also much about Ferrater's thought, although perhaps not in the line one might expect; the great variety of topics discussed shows a diverse group of thinkers - from different generations, different countries, speakers of different languages - who highlight many different aspects of Ferrater's thought: his ontology, psychology and ethics, his use of history, his treatment of the mind, his notion of "seny", his concern for style, his early development in Chile, some similarities or differences with the thinking of Dewey and GEMoore, and so on. "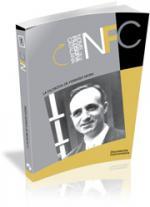 See the review published in Enrahonar magazine, n. 44, 2010.