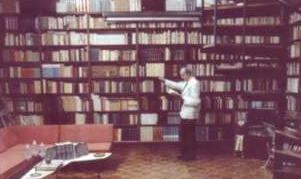 In the background, we can highlight the books related to philosophy, some 3,625, among which we find dictionaries in all languages, works by philosophers - from Abelard to Zubiri through to Ferrater Mora himself - and thematic works, such as the philosophy of knowledge, mathematical logic, the philosophy of mind and language, ethics, analytical philosophy, philosophical anthropology, nominalism, metaphysics, consciousness, subjectivity, relativism, pragmatism, and so on.
The collection is not, however, only important in philosophy, but also in works about language and literature, containing some 2,300 books, with numerous works by German, English, American, French, Spanish and Catalan authors. Among these last two groups, the works by Catalan and Spanish writers who lived and edited books in exile stand out. In smaller amounts we also find works on Portuguese, Russian, Polish, Greek and Latin classics, as well as studies on authors and works of literary theory and criticism.
The books on religion are also remarkable: atheism, theology, Buddhism and Chinese philosophy; sociology, law and education; some two hundred books on the history of science and mathematics, physics and geometry; cinema and photography; and others that deal with philosophy and the methodology of history.
Regarding magazines, most are concerned with philosophy (Cuban Magazine of Philosophy, Journal of Philosophy, Uruguayan Journal of Philosophy, Journal of the History of Philosophy, Papers of the Seminar of Philosophical Scientific Problems, Theorem, The British Journal for Philosophy Of Science or Phronesis: a Journal for Ancient Philosophy) There are also films (Avant-scène Cinéma, Filmmakers: Newsletter, Super 8 Filmmaker or American Cinematographer) and literature and humanities (Lettres Françaises, Revista de Catalunya, South, West Magazine, The Texas Quarterly or The Tower), and so on.
During cataloging, they were found as bookmarks, letters, addresses and cards from the same authors, annotations, newspaper cuttings and magazines with reviews, propaganda, leaflets, and so on, and have been preserved with a reference to the book from which they were extracted. Also remarkable and open to possible study are Ferrater Mora's annotations in books, and the dedications that would draw his circle of relationships and friendships.
The Ferrater Mora Library is located in the legacy room of the Library of the University of Girona and is open to visits.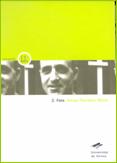 If you wish to find more detailed information about this library, read the text prepared by Joan Vergés Gifra entitled Short introduction to the Ferrater Mora Library (in catalana language) on the CD edition -ROM from the Ferrater Mora Library catalogue, published in 1999.
You can also read Josep-Maria Terricabras's text (in catalan language) for the Presentationof the Ferrater Mora Library, and the description by Lourdes Oliva Callís (librarian of the UdG) of the Library and the Ferrater Mora Library's cataloging and treatment process.