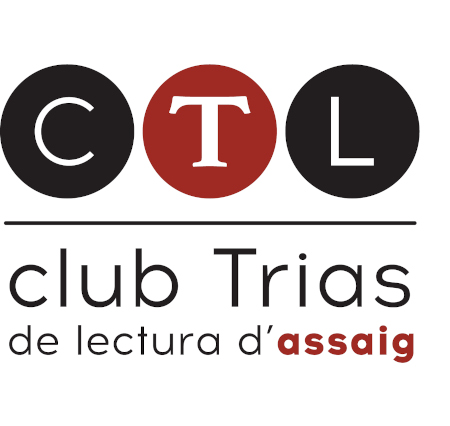 On October 4, 2017, in collaboration with La Mercè School of Humanities of Girona, the Chair inaugurated the Trias Essay Reading Club with the book Progresismo, una inmersión crítica by Ferran Sáez Mateu (philosopher and professor at Ramon Llull University). The Club is coordinated by the mathematician and profesor in Philosophy Jaume Romero, a regular collaborator of the Ferrater Mora Chair
The idea of ​​the Club is to encourage essay reading. Each term (three months) there is a debate on the subject of a different book and in the last session (third session) the author of the work takes part in the debate.
This reading club is called "Club Trias" in recognition of the patronage that Galetes Trias makes of the Ferrater Mora Chair.
In 2018, the books Aporias de la vida quotidiana, by Nemrod Carrasco (professor of philosophy at the University of Barcelona and who was a philosophical advisor to the famous television series "Merlí") were discussed; Què ens està passant?, by Gemma Calvet (criminal lawyer, former deputy, journalist and essayist); and Allò que som, by Josep-Maria Terricabras (Member of the European Parliament, philosopher, and honorary director of the Ferrater Mora Chair).
In 2019, the Reading Group discussed on L'ull i la navalla, by Íngrid Guardiola (audiovisual producer, researcher and director, and professor at the UdG and the UB) Jo acuso: la defense en judicis politics by Benet Saellas (lawyer and former deputy); and Las mejores palabras (Anagram Essay Prize 2019), by Daniel Gamper (Professor of Moral and Political Philosophy at the Autonomous University of Barcelona).