Ponents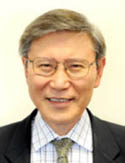 Young-Chan Ro
Young-Chan Ro is Professor of Religious Studies and the founding Chair (2005-2013) of the Department of Religious Studies, and Director of Korean Studies Center, George Mason University. His teaching and research areas are consisted of the East Asian traditions including the Confucian tradition, and comparative and cross-cultural studies. He authored The Korean Neo-Confucianism of Yi Yulgok (SUNY Press, 1987) and co-authored The Four-Seven Debate: The Most Famous Controversy in Korean Neo-Confucianism (SUNY Press, 1995). He also published several book chapters in Neo-Confucianism including, "Ecological Implications of Yi Yulgoks cosmology" Confucianism and Ecology (Edited by Mary Evelyn Tucker and John Berthrong) Harvard University Press in 1998, and "Morality, Spirituality, and Spontaneity in Korean Neo-Confucianism" Confucian Spirituality, Volume Two (Edited by Tu Weiming and Mary Evelyn Tucker), The Crossroad Publishing Company, 2004. He has written several book chapters and articles on Raimon Panikkar and currently working on Panikkar's epistemology and ontology. He received his Ph.D. in Religious Studies from the University of California at Santa Barbara.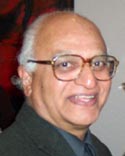 Francis X. D'Sa
Director, Institute for the Study of Religion, Pune. Professor Emer. for Systematic Theology and Indian Religions, Jnana-Deepa Vidyapeeth, Pune. Studies in Mumbai, Poona Papal Athenaeum, Poona University, Universities of Innsbruck (Theology) & Vienna (Ph.D.)
Guestprofessor: Universities of Innsbruck, Fribourg, Salzburg, Freiburg/Breisgau, Frankfurt/M. (1986 and 2003) etc. Chair of Missionswissenschaft und Dialog der Religionen, University of Würzburg, Germany (2003-2008). Lectured extensively in the German speaking countries.
Among his publications are a book on the Purva-Mimamsa (Vienna University, Austria) and two on cross-cultural reflections (Frankfurt/M Univ.). Among the edited books are Hermeneutics of Encounter (Vienna Univ., Austria), The Dharma of Jesus (Maryknoll, N.Y.: Orbis Books) and The World as Sacrament (Jnana-Deepa Vidyapeeth, Pune), besides a series of Word-Indices: Word-Index to the Bhagavad-Gita, Word-Index to Shankara's Gita-Bhashya and Word-Index to Brihad-Aranyaka Upanishad.
Research articles have appeared in English and German in books and journals (India, Europe and America). For details see www.isrpune.org
Participated in international conferences in Australia, Austria, Germany, Indonesia, Italy, Kenya, the Philippines, South Korea, Spain, Switzerland, Thailand, USA; Doctor honoris causa from the University of Frankfurt, Germany (2007).

Anand Amaladass
Besides his philosophy and theology he has a Master's degree in Sanskrit and Ph. D from the University of Madras 1981. Post-doctoral studies at the University of Vienna, Austria, 1982-84. From 1984 he was teaching (now Emeritus) at the Satya Nilayam Jesuit Faculty of Philosophy in Chennai, now part of the Loyola (Autonomous) College, Chennai. He was Dean of the Faculty and Director of the Research Institute for Philosophy and Sanskrit.
Visiting professor at the University of Vienna during summer semesters from 1990 and also visiting professor for two semesters in Wuerzburg, and one semester in Frankfurt, Germany and three semesters at the Gregorian University, Rome. He was founder-editor of Satya Nilayam Chennai Journal of Intercultural Philosophy for six years and co-editor of the Journal of Hindu Christian Studies for the last 20 years.
Publications include a book on the Dhvani theory in Indian Aesthetics (published in Vienna, Austria, 1984), and four books (pocket-book series) in German: one on the Vishnu Tradition, two on the God of Dance, Shiva and the fourth one, on the Goddess phenomenon with a translation of Abhirami Antati and around 100 articles (in English and German) in books and Journals. The Christian Themes in Indian Art (Documntation of how the Hindus, Muslims, Parsis and Christians interpreted Christian themes in India) was published together with Gudrun Löwner in 2012. The recent publication (2014) is an edited volume along with Ines G. Županov: Intercultural Encounter and the Jesuit Mission in South Asia (16th- 18th centureis), Another book in German Aesthetics and Theology is awaiting publication (Frankfurt).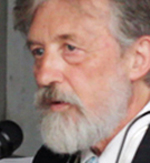 Luigi Vero Tarca
Luigi Vero Tarca is full professor of Theoretical Philosophy at the Ca' Foscari University in Venice, on the chair which was of professor Emanuele Severino, one of the most distinguished Italian philosophers. Tarca, Severino's follower, studied logic, epistemology and contemporary philosophers, as for instance Karl-Raimund Popper and, in particular, Ludwig Wittgenstein.
On these basis he developed an original overall philosophical perspective, based on the distinction between difference and negation, and hence on the notions of pure difference and pure positive (i.e. positive different both from negative and non negative).
His philosophy includes also a practical dimension, since he has been active in the field of Philosophical Practices since 1998, especially through the "Seminario Aperto di Pratiche Filosofiche" (Open Seminar of Philosophical Practices).
In the first decade of the present century he met Raimon Panikkar, whom Tarca considers a datum point for his philosophical and spiritual experience. In 2008 he contributed to promote the International Conference "Homage to Raimon Panikkar" at the Ca' Foscari University.
Among his writings: Differenza e negazione. Per una filosofia positiva (Napoli 2001); Philosophy as Life Path (Milano 2003/2006 English translation); Raimon Panikkar and Western Rationality, in Fullness of Life (Mumbai-New Delhi 2008), La rete e il mare, in M.Carrara Pavan (ed.), Parliamo della stessa realtà? (Milano 2014, on the meeting Panikkar-Severino which took place in 2004 in Venice).
Joseph Prabhu
Joseph Prabhu is Professor of Philosophy and Religion at California State University, Los Angeles (CSULA) and occasional Visiting Professor at the University of Chicago. He is active as both a scholar and a peace activist. He has edited, The Intercultural Challenge of Raimon Panikkar (Orbis Books, 1996 ) and co-edited the two-volume Indian Ethics: Classical Traditions and Contemporary Challenges (Ashgate Publishing Co, 2007 and 2015,Oxford University Press, India).He has authored Raimon Panikkar as a Modern Spiritual Master (Orbis Books, 2015) He has three books in process, "Liberating Gandhi: Community, Empire and a Culture of Peace," due out in 2015, and "Hegel, India and the Dark Face of Modernity.," and "Human Rights in Cross-Cultural Perspective," due out later in 2015. He has been a Senior Fellow of the Center for the Study of World Religions at Harvard University and of the Martin Marty Center at the University of Chicago. He has also been co-editor of Re-Vision from 1995-2003 and a contributing editor of Zygon. He is the past President of the international Society for Asian and Comparative Philosophy, 2008-2010, and the Program Chair for the Melbourne Parliament of the World's Religions, 2009. Among his many awards are the Outstanding Professor Award of CSULA for 2004-2005 and the Lifetime Achievement Award from Soka Gakkai, USA and a Commendation from the Southern California Committee of the Parliament of the World's Religions.
He served on the Board of Trustees and the Executive Committee of the Council of a Parliament of the World's Religions from 2005-2011. He was the Program Chair for the 2009 Melbourne Parliament. He serves as well on the Advisory Board of the Toda Institute for Peace Research associated with Soka Gakkai International. He is also the Co- Chair of the Southern California Committee of a Parliament of the World's Religions, and on the Special Advisory Committee of the American Academy of Religions. In addition, he serves on a panel of experts advising the UN High Commission for Human Rights and the International Security Forum based in Geneva.
He has lectured and taught at more than seventy universities either as visiting professor or as guest lecturer in Asia, Africa, Australia, Europe and the United States. He will be a Visiting Professor at Oxford in Michaelmas Term 2015.

Gerard Hall
Gerard Hall, a Marist priest, is Associate Professor of Theology at Australian Catholic University. Completing his doctorate on the Interreligious Vision of Raimon Panikkar at Catholic University of America in 1994, he has participated in many Panikkar symposia including membership of the International Spirit of Religion Project. He serves on the Academic Board of the Intercultural Centre dedicated to Raimon Panikkar. In 2010, Gerard co-hosted the Indigenous Theology Symposium in Brisbane which brought together Panikkar scholars and Indigenous voices from across the Pacific (proceedings published as Dreaming a New Earth—Mosaic Press, 2012). He continues active involvement in various theological and interreligious forums and was recently elected inaugural fellow of the Association of Practical Theology in Oceania. Gerard is founding editor of the Australian eJournal of Theology and a recipient of the Queensland Intercultural Society's "Building Bridges Award" for his for contribution to interfaith and intercultural dialogue.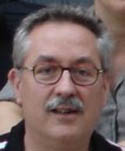 Francesc Torradeflot
Doctor in Teology (Faculty of Teology of Catalonia), graduate in History of Religions (University of Lovaine) and graduate in Philosophy (Autonomous University of Barcelona). Together with Raimon Panikkar, he was the co-director of the IV Parliament of World Religions that took place in Barcelona in 2004. He is coordinator of the Catalan Network of Organizations for Interreligious Dialogue and of the International Network on Religions and Mediation in Urban Areas. He is also Professor and researcher of the Studies Center of Wisdom Traditions and Director of the UNESCO Association for the Interreligious Dialogue. He has published several books and articles on the issues of interreligious dialogue, religious diversity, interreligious mediation and the importance of spirituality for a culture of dialogue.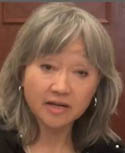 Michiko Yusa
Michiko Yusa is a professor of Japanese Thought and Intercultural Philosophy at Western Washington University in Bellingham, in the Department of Modern and Classical Languages and the Center for East Asian Studies. She received her Ph.D. in 1983 from the Department of Religious Studies at the University of California Santa Barbara, where she worked closely with Raimon Panikkar and Ninian Smart.
She has published widely, including four books, Zen and Philosophy: An Intellectual Biography of Nishida Kitarō (Honolulu: University of Hawaii Press, 2002); Japanese Religious Traditions (Upper Saddle River, NJ: Prentice Hall, 2002), Denki Nishida Kitarō [A biography of Nishida Kitarō in Japanese] (Kyoto: Tōeisha, 1998), and Basic Kanji with Matsuo Soga, (Tokyo: Taishūkan, 1989, fifth printing 2007), and co-edited volumes, Isamu Noguchi and Skyviewing Sculpture: Proceedings of Japan Week 2003 (Bellingham: Western Washington University, 2004), and CIRPIT Review 5 (2014), special issue of the symposium on Raimon Panikkar held in Baltimore in 2013.
She is the past president of the Society for Asian and Comparative Philosophy, and is currently serving as its Program Chair of the American Academy of Religion. Her on-going research includes Nishida Kitaro's thought, Women's spirituality in Japanese Buddhism (a book project), ecosophy, philosophy of artistic creativity (such as the poet Matsuo Bashō), and the thought of Raimon Panikkar.