Invited specialists
By indication of Agnes Heller, the below mentioned were also invited to participate:  John Grumley (Sidney University) and Katie Terezakis (Rochester Institute of Technology), who gave the following lectures:
Monday, May 30th, 12.00h.
Heller On the Ancients
Katie Terezakis 
Tuesday, May 31th, 12.00h.
Between the Normative and The Empirical: Heller on the Concept of Culture
John Grumley
Wednesday, June 1st, 12.00h.
Heller On the Ethics of Personality
Katie Terezakis 
Thursday, June 1st, 12.00h.
Agnes Heller and the Question of Humanism
John Grumley 
Publication
Prof. Heller's lectures were published in Arcàdia Editorial, in 2020. On Tuesday, September 15, 2020, at the Ateneu Barcelonès, the event The Worlds of Agnes Heller was organized, where this new expanded edition of the book was presented. The event was attended by Eudald Espluga, journalist and PhD student in Philosophy, Jordi Jiménez, philosophy speaker at the Ateneu Barcelonès and Joan Vergés Gifra, director of the Ferrater Mora Chair. See here the press dossier,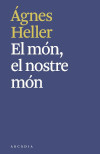 They are almost a compendium of the many and diverse philosophical interests that this thinker had: from tradition to the everyday; art and music; metaphysics and ideologies; emotions and imagination; justice, inequalities, laws; and a special way of understanding our place in the world, our world.

His reflections then, from an explicit ideological left, now reach us and are enormously topical. Concerned about the effects of the pandemic, reading Heller on biopolitics, that is, the political use of bodies, and on how power feeds fear and makes the fundamental tool for sacrificing freedom, is enlightening.

Agnes Heller was a woman fighter who lived intensely the vicissitudes of the twentieth century with lucidity and without fainting. As an epilogue - in fact, a tribute to her - we have added a final text to this book, an autobiographical account in which she concludes that our true task, in this world, is to save ourselves from ourselves, courageously assuming the weight of responsibility.
A first edition of the lessons was published by Documenta Universitaria in 2008.