Invited specialists
By indication of Prof. Benhabib, the below mentioned were also invited to participate:  Prof. Neus Campillo (Universitat de València) and Prof. Cristina Sánchez (Universidad Autónoma de Madrid). Conferences:
Wednesday, June 8, 12.00h.
El feminisme crític de Seyla Benhabib
Neus Campillo 
Thursday, June 9, 12.00h.
Reinterpretando a Hannah Arendt
Cristina Sánchez 
 
Other activities
During the seminar, the Spanish translation of Seyla Benhabib's book Los derechos de los otros. Extranjeros, residentes y Ciudadanos.
Seyla Benhabib herself, Josepa Bru, Professor of Human Geography at the University of Girona and Neus Campillo, Professor of Philosophy at the University of Valencia participated in the debate.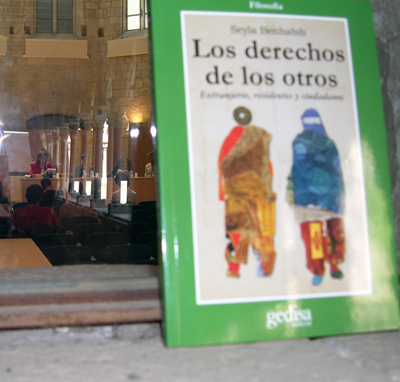 The book examines the limits of the political community by analyzing the practices and principles that govern the incorporation of immigrants, refugees and asylum seekers into our societies. These new forms of citizenship test the traditional principles of sovereignty, national citizenship or political participation.