Papers
Thursday, November 27th, 2003
Eusebi Colomer i la filosofia de la història, by Josep Monserrat (Universitat de Barcelona)
Publication
In 2008 the book L'obra d'Eusebi Colomer, was published by Documenta Universitaria.
In the great philosophical production of Eusebi Colomer, three great centers of interest can be distinguished that are particularly outstanding. Firstly, his dedication to the study of the thought of Ramon Llull and Nicolás de Cusa. The second great center of interest was, naturally, the great currents of modern and contemporary German philosophy. Finally, his third center of interest was the philosophical-theological dialogue.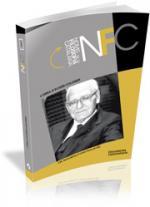 See the review published in Enrahonar magazine, n. 44, 2010.