Others activities
On Tuesday, October 7, at 7.30 p.m., the presentation of the Catalan translation of Vattimo's latest work, Ecce comu, took place at the Centre Cultural La Mercè.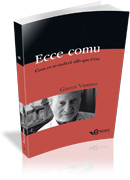 "Real communism is dead, long live ideal communism" (Gianni Vattimo).
At a time when left-wing ideologies seem to be experiencing (in Italy clearly, but also in the rest of Europe) one of their lowest moments. When the Berlin Wall is already two decades away. When Christianity is losing presence, followers and credibility with each passing day. When even Cuba seems to be showing signs of softening the rigidity of its regime. At this moment, the Turin philosopher Gianni Vattimo surprises us by exhorting them to return to communism. To a communism, but, inspired by weak thought, nihilism, anarchism and evangelical Christianity. A communism that should lead us, through democratic subversion, to a real change that will finally stop the drift of the eternal inequalities caused by capitalism.
A disconcerting and stimulating proposal, with the very personal stamp of Gianni Vattimo.