Papers
Thursday, December 16th, 2004
El lloc de Turró en la tradició filosòfica catalana: una lectura de l'article "Criteriologia de Jaume Balmes", by Misericòrdia Anglès (Universitat de Barcelona)
Ramon Turró vist per Jaume Serra Húnter, by Miquel Verdaguer Turró
Publication
 The year 2007 will see the publication of Ramon Turró, científic i pensador, at Documenta Universitaria.
From the presentation: "Turró has a global, complete vision of the human organization, without rigid distinctions between the interior and exterior world. Here is precisely the essence of his famous work Origins of knowledge: family, and the most basic core of his thought. And here there is also another element of modernity in its approach, which at the time was a pioneer and which continues to offer many aspects of great actuality".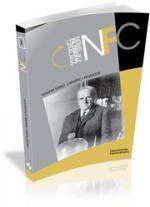 See the review published in Enrahonar magazine, n. 44, 2010.