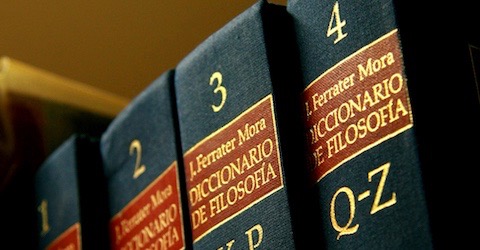 Josep Ferrater Mora's (1912-1991) Diccionario de Filosofíais undoubtedly a reference work throughout the Hispanic world.
The first edition, published in 1941 in Mexico by Atlanta, was relatively modest, with 598 pages. Ferrater Mora prepared this first edition while living in Havana, Cuba, as an exile of the Spanish Civil War. The sixth edition, much more complete and extensive (4 volumes), appeared in Madrid in 1979 at Alianza Editorial. It was the latest edition prepared by Ferrater Mora.
After his death in 1991, the Diccionariowas updated by Josep-Maria Terricabras, director of the Ferrater Mora Chair of Contemporary Thought of the University of Girona (chair that Terricabras and Ferrater Mora founded in 1989). This edition was published in 1994 in Barcelona by Editorial Ariel. It was also translated into Portuguese.
The dictionary of Ferrater Mora has been unanimously praised throughout the intellectual world, especially the Spanish-speaking world:
"The Dictionary of Philosophy that the Spanish philosopher Josep Ferrater Mora (1912-1991) was building and re-elaborating for forty years is, without a doubt, the dictionary of philosophy written in Spanish that has most spread during the second half of the twentieth century in the Spanish speaking Nations." (Source: Project philosophy in Spanish)
"Ferrater Mora has been my favorite philosophical dictionary (…) I consider it one of the most comprehensive and informed sources for the use of students and philosophy professors." (Christian Thiel, Institut für Philosophie der Universität Erlangen-Nürnberg)
"The Dictionary of Philosophy has long been enshrined as an indispensable tool for students and philosophers. Its publication in a new updated edition is a much-awaited event and very good news. As a work of remarkable erudition and broad spectrum, it is a fruitful source of information, instruction and reflection." (Nicholas Rescher, University of Pittsburgh)